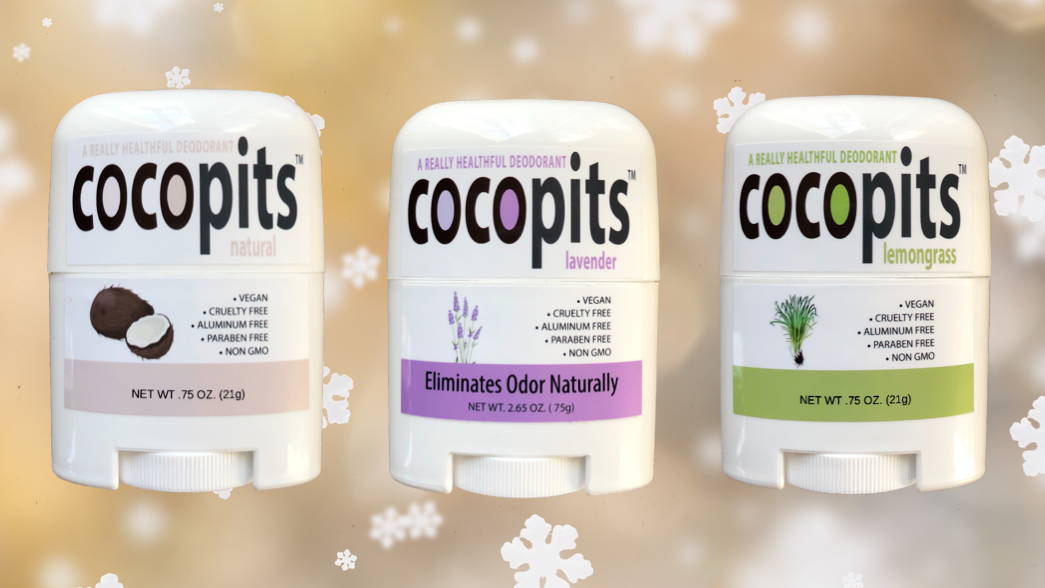 Exclusive Buy One Get One FREE Offer!
Buy any Mini Stick and get the same one FREE! No limit to how how many you put in your Cart. Whatever you put in there, we will match! Plus.....we'll even pay for the shipping! Hurry, offer expires soon. We only have a few left!
CocoPits is your go-to healthy alternative to traditional deodorants. Better for you and your pits. Safe, natural, and absorbent. Goes on smooth, nurtures your skin, and lets you sweat without the funk. Because sweating is important. And stinking is no fun. Actually, we're sure you'll agree, it's kinda icky.
CHECK OUT OUR 100% ORGANIC, ALL-NATURAL INGREDIENTS THAT MAKE THE MAGIC HAPPEN:
Coconut Oil (Star of the Show), virgin and cold-pressed of course.
Arrowroot (Rising Star)
Sodium Bicarbonate* (Co-Star)
Raw Shea Butter (Director)
Candelilla Wax (Producer)
Therapeutic Grade Essential Oils (Glam Squad)
Sweet Almond Oil, Jojoba Oil, Vitamin E oil (Extras)
3 SENSATIONAL SCENTS IN OUR PROMO MINI VERSION
Lemongrass: Stress sweat? This is the scent for you. Citrusy goodness packed into a deodorant. Lemongrass is known for relaxing and invigorating properties and has a fresh, clean scent.
Lavender: Stay calm about sweating. This scent is all the CocoPits rave right now!
Natural: Not into a scented option? No worries. Natural has zero essential oils and only the natural scent of the ingredients, which is a very mild coconutty smell. It's made with naturally mined sodium bicarbonate, which is more compatible for people with sensitive skin.
Application: Less is more! Swipe 2-4 times in the armpit area. A little goes a long way and over-application may cause irritation for sensitive skin users.
*NSF approved for organic use.